Communication Solutions for the Oil and Gas Industry
Benchmark Data Solutions has provided remote communication solutions to the oil and gas industry throughout Western Canada since 1998.
As an industry leader and go-to provider within the oil and gas industry, we have the experience and knowledge to deliver reliable and top of the line products to our clients. Applying these solutions in Canada's harshest climates, Benchmark Data Solutions provides first-rate expertise from our industry experts.
With our vast solutions we deliver extensive communication solutions, offering custom solutions for each client's projects unique specifications.
Oil and gas camps are often situated in extremely remote areas, far beyond the reach of normal cellular range. This presents a significant challenge because camps must remain in constant contact with their headquarters and emergency response personnel. At Benchmark Data Solutions, we offer a number of solutions to provide oil and gas camps with reliable remote communications.
Specifically, we maintain Canada's largest private fleet of mobile communication towers. Our guyed and unguyed towers are powerful enough to provide cellular connection in Canada's most remote oil and gas fields. Once that connection is established, we also offer completely managed internet services, TV service, wireless intercom systems, and more. With Benchmark Data Solutions, you can ensure your camps are just as safe and comfortable as home.

While camps themselves may be in remote areas, drilling rigs are often completely secluded and far away from camp. With the inherent risk of injury on drilling rigs, it's imperative that constant and reliable communication systems are in place.
We here at Benchmark offer remote communication packages specifically designed for rig communications. In addition to mobile communication towers, we offer mobile repeaters that can boost tower signals to each individual rig. Additionally, Our wireless intercoms are explosion proof and strong enough to handle the toughest conditions. Finally, our two way radios are intrinsically safe and so lightweight, that your personnel won't even notice the extra weight.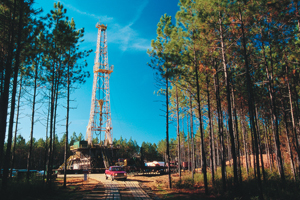 Well completion is a highly technical process that requires constantly monitoring by sophisticated software. A simple network connectivity issue could cause serious setbacks at this initial stage. Working closely with our partners in the Oil and Gas industry, we've developed systems to ensure that foolproof high-speed internet is available throughout the entire completion process. Feel free to contact us to learn more about these systems and how they can protect you.